The new SBT 3000 Series clock not only allows a facility to receive the most accurate time possible, but also has the capability to report its status back to the master clock. This is done through our TalkBack Technology – each clock can provide its signal strength, its battery life, and even information about the segments on the display.
The SBT 3000 Series is a wireless clock system that operates on either Sapling's 915-928MHz or 2.4GHz (International Use Only) frequency–hopping technology. The digital wireless clocks have the ability to receive and retransmit the signal to neighboring clocks, ensuring an accurate time display throughout a facility.
This series also includes the option to add an Elapsed Timer (3200 or 3300 series only) in order for the digital clocks to conduct a count-up or countdown, and can easily interface with existing systems.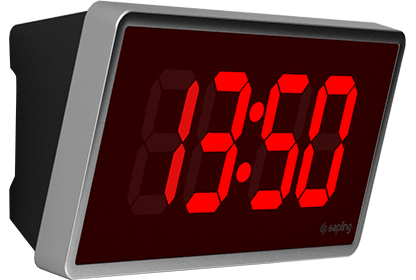 Shatterproof, polycarbonate filters provide a crystal clear display
Extremely durable ABS housing with a two-toned design
Brightly lit, 7-segment LED displays provides great visibility
STANDARD DIGITAL TALKBACK CLOCK FEATURES

915 – 928 MHz frequency-hopping technology

2.4 GHz frequency range available for international use only

Receives and transmits the signal once a minute

Wide variety of sizes from 2.5" or 4" characters to 4 or 6 digit displays

Two (2) to four (4) levels of programmable brightness (depending on model chosen)

Loss of Communication Alert

"BELL", "FirE" and addressable messaging capabilities


Elapsed timer capabilities

Elapsed timer capabilities

Can interface with existing systems